Oh the glamour!  The elegance!  The style!  What most people wouldn't give to live in a mobile home.  I know, I know, the glitz of it is blinding.  The envy of all your neighbors is hard to bear from time to time, but we must endure.  We must endure.
Even though I was raised in a family that was financially comfortable, I have actually lived in mobile homes by choice more than once (maybe this accounts for the financial comfort?). Four times in fact!  Yes, we have ultimately graduated from a 12×68 single wide with an add-a-room glued on to a 28×52 double wide. But a mobile home is a mobile home, even if we have sworn to never call our double wide a…a…trailer!  The ultimate definition of a "humble abode", mobile homes provide a comfortable, affordable way of life.  If you find a used one, you can pat yourself on the back for recycling a useful resource.  AND you can comfortably remodel them to fit your needs without feeling like it will cost you an arm and a leg.
Here's a list of just a few of the memories that have come to mind this week about mobile home living.  These stretch back as far as the early Seventies for some of the best of them.  Most of them taught lessons that have alleviated our having to relive them in any way with our modern digs.  Enjoy!
1.  Home Heating- Growing up in a mobile home out in the country meant that when the furnace wouldn't start, it was time to run to the Corner Store and get a can of kerosene.  Heating with fuel oil offered this benefit that if you couldn't afford $300 to fill your 300 gallon tank (wouldn't that be nice today?), you could go buy 10 gallons of kerosene to last a week or so.  We also had a pot-belly wood stove that was certainly not up to code (was there such a thing back then in a town with no zoning?).  And the stovepipe glowed red enough to melt horseshoes on.  The grownups often joked about our place being a "tinderbox".  Well, when your bedroom is right next to that stove, that joke isn't too funny!
2. Tiny Bedrooms- Nothing like living in dormitory style! 8′ x 10′ bedrooms aren't enough space for anyone who is not a convicted felon to exist in. (Note to self- Google "standard cell sizes" for reference)
3. Built-In Furniture- The multitasking living room wall that does honorable duty as a library-gun rack-entertainment center is truly a site to behold! No mobile home bedroom would be complete without the built-in dresser with a half closet that has a hanging rod 8 feet up that only Wilt Chamberlain could reach.  These glorious feats of human ingenuity take the burden of needing furniture away from those who live in 8′ x 10′ rooms!
4. Mobile Home Parks- As a child, I lived in a  newer mobile home (circa 1972) in a park in Florida.  It was quite a grand estate with a section for families and a section for senior citizens.  We enjoyed a giant family club house and a pool that seemed to be Olympic sized, although at 4 years old, my perspective could have been a bit off.  There was a diving board, and many large people with beer bellies fit in it comfortably.
It seemed to be such an elegant place, but looking back on my knowledge of the families who lived there, it was no different than what you would find now…every day folks just tryin' to get by.  But…be forewarned…no child shall ride their bike beyond the barrier of the ancient ones' section lest they be beaten with a cane!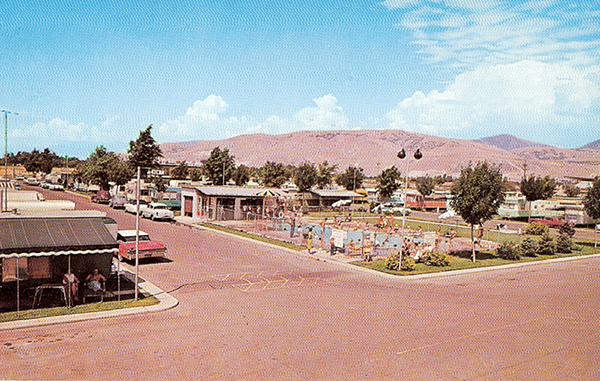 5. Water Troubles- Anyone who's anyone in the North Country of New York, and dares live in a mobile home, knows of what I speak.  Heat tape does not last forever.  However, the day you must crawl under your home with a hair dryer to thaw out your pipes, or…heaven forbid…your sewer line…that day?  That day lasts forever.
My fondest memory of all is of the winter night when a section of our sewer line ended up propped in our bath tub to speed up the melting process.  Good times!
Yes, these memories will hold for years to come, until I'm old and gray.  They remain solid in the vault of my mind because of the laughter shared around them, the relationships forged in common adversity while under the house in freezing temps, and in the fear etched on our minds of waking in the middle of the night to sound of fire trucks.  After all, how sad would it be to watch all of that marvelous built in furniture burn?
Do you have memories specific to mobile home living?  Share them in the comments section for the rest of us to savor!
On to make more memories!
The McGees